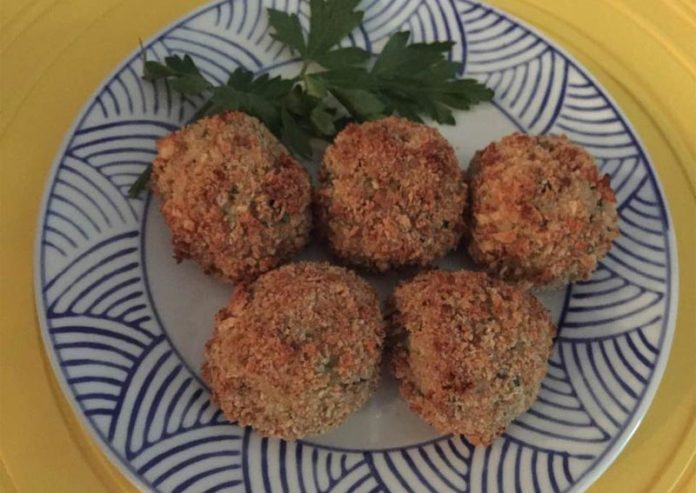 Ingredients
1 T. no salt butter
3 T. celery, finely diced
1/2 c. onion, finely diced
In saucepan, saute celery and onion in butter.
Turkey mixture: Add following to medium bowl and mix well:
9 oz. low sodium cooked turkey, finely diced or pulsed in food processor
2 T. fresh parsley, chopped
1 T. poultry seasoning
pinch garlic powder
freshly ground black pepper
Now add the sauted celery and onion and mix well
Sauce
Using sauce from before saute:
2 T. no salt butter and 3 green onions, finely sliced
Add:
4 T. flour –and brown a bit to cook flour.
Whisk in and stir well until thickened:
1/4 c. milk
1/4 c. low sodium chicken broth
Directions
Now combine the turkey mixture and the sauce.
Using 1/4 c. scoop or measuring cup, make balls of the turkey mixture.
Roll in 1 egg and 1 t. milk that has been whipped.
Now roll the balls in 1 c. dry no salt breadcrumbs.
Place parchment on cookie sheet, place croquettes in preheated 450 degree oven for about 15 minutes.
Can be served with gravy,if desired
4-5 servings
Makes 11 croquettes
Comments
comments