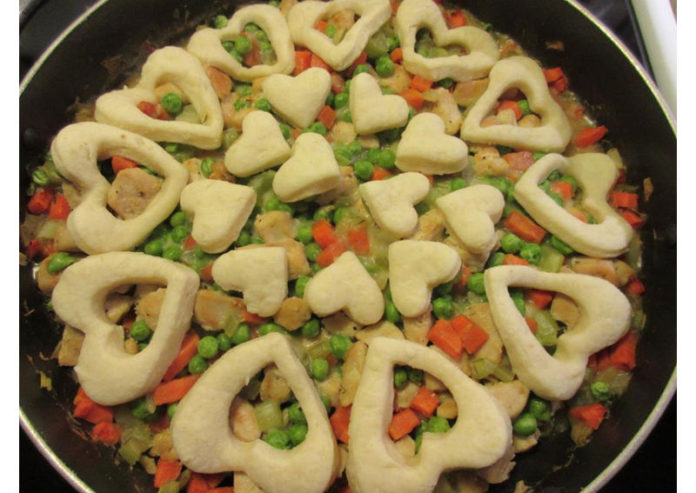 Total sodium
per serving:
180mg
Total calories
per serving:
502
Servings:
6
Prep: 10 min   Cook Time: 50 min     Total Time: 1 hour
Ingredients
1 tbsp olive oil
1 lb boneless, skinless chicken breasts, cut into 1″ cubes
Freshly ground black pepper
2 cloves garlic, minced
1/2 onion, chopped
2 cups carrots, peeled, diced
1 1/2 cups celery, diced
2 tsp fresh thyme (3/4 tsp dried)
3 tbsp flour
1 1/2 cups frozen peas
2 cups Campbell's No Salt Added Chicken Broth
2 tbsp half and half or heavy cream
BISCUITS: (adapted from a recipe by Dick Logue)
2 cups all- purpose flour
4 tsp Featherweight no sodium baking powder
2 tsp sugar
4  tsp Cream of Tartar
1/2 cup unsalted butter, softened
2/3 cup milk (used 1%)
1 egg, lightly beaten
Directions:
1. Preheat oven to 350° F
2. In a large oven proof, heavy bottomed skillet, heat the olive oil over medium heat.
3. When the oil is hot, add the chicken, the minced garlic and season with pepper.
4. Cook until the chicken cubes are nicely browned on all sides and no pinkness remains. When cooked, remove the chicken to a bowl and set aside.
5. To the same skillet, add the onion, carrots, celery and thyme. Cook for approximately 4-5 minutes or until the vegetables have softened.
6. Sprinkle the flour over the vegetables, stir and cook for about 3 more minutes being careful not to burn the flour.
7. Add the chicken broth to the skillet, stir and bring the mixture to a simmer. Cook for about 10 more minutes or until the broth has thickened slightly.
8. Remove from the heat and add in the half and half, the frozen peas and the cooked chicken. Stir to make sure all is well mixed.
9. BISCUITS: Mix the dry ingredients together in a large bowl. Using a pastry cutter, two knives or a fork, mix the butter into the dry ingredients until it looks like coarse crumbs. Add in the milk and mix until the mixture just holds together. Gently knead the mix on a floured board. Using a floured rolling pin, roll the dough to about half an inch thickness. Cut out 18 biscuits (or as many as you can) using a small cookie cutter or small glass.
10. Place the homemade, low sodium biscuits, overlapping or in a decorative pattern , around the outer portion of the skillet.
11. Brush the biscuits with the beaten egg.
12. Bake in oven for 25-30 minutes until golden brown and the biscuits are cooked through.
13. Serve Immediately.
Makes 6 servings, each serving with 1/6 of the biscuits has approximately 502 calories, 180mg sodium, 50.1g carbs
Original recipe found at delish.com, rewritten and adapted for low sodium.
Comments
comments