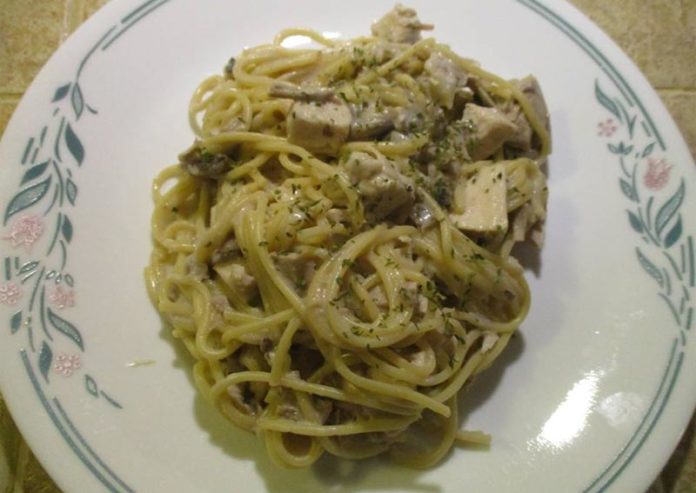 Total sodium per serving:
265mg
Total calories per serving:
518
Servings:
4
Ingredients
1 tablespoon vegetable oil
1/2 cup chopped onion
8 oz sliced white button mushrooms
1 1/2 cups low/no sodium added chicken broth
2 cups 1% milk
8 ounces spaghetti uncooked
12 oz cooked and shredded turkey or chicken
1/2 cup low sodium sour cream
1 tbsp unsalted butter
1/4 cup parmesan cheese grated
Parsley, chopped (optional) (1 tsp dried)
Directions:
1. Place a large pot on medium-high heat and heat the oil. Add the onion and mushrooms and cook for about 2-3 minutes until they begin to soften.
2. Add the chicken broth and milk into the pot, cover and bring mixture to a boil over high heat. Add the spaghetti to the pot and cook for about 10 minutes or until almost al dente. Stir in the cooked turkey and continue to cook until the pasta is done.
3. Remove the pot from the heat, stir in the sour cream, butter and cheese. Serve immediately. (see note below about leftovers)
Makes 4 servings, each serving has 518 calories, 265mg sodium and 56.25g carbs
Recipe Notes
This is best eaten immediately after cooking, as the spaghetti continue to soak up liquid while cooling. If you do have leftovers, make sure to add additional chicken stock when reheating to thin out the sauce.
Original recipe was found at www.savorynothings.com/30-minute-lighter-stovetop-turkey-tetrazzini/
Comments
comments