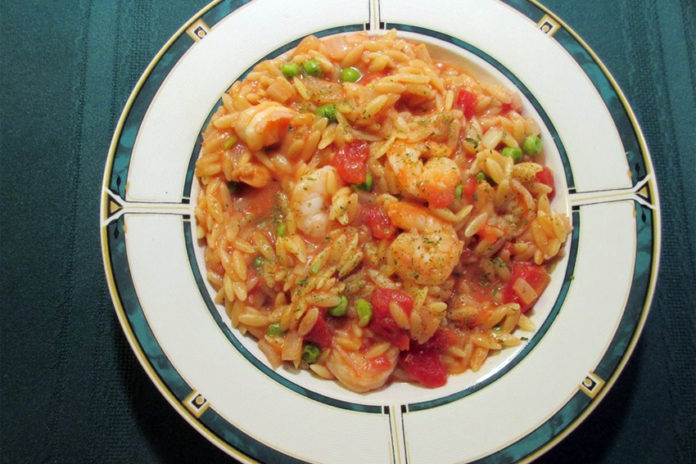 Total sodium per serving:
431mg
Total Calories per serving:
409
Servings:
4
Ingredients
1 pound medium shrimp, peeled and deveined (remove tails if you want)
freshly ground black pepper, to taste
1 tablespoon olive oil
3 cloves garlic, minced
1 onion, diced
½ teaspoon dried oregano
8 ounces orzo pasta
2 cups NAS chicken broth
1/2 cup water
1 (14.5-oz) can diced NAS tomatoes, drained
1/2 cup frozen peas
Juice of 1 lemon
1/4 cup grated Parmesan cheese
parsley for garnish (optional)
Directions
1. Preheat oven to 400° F
2. Season shrimp with pepper to taste; set aside.
3. Heat olive oil in a large oven-proof skillet over medium high heat.
4. Add garlic, onion and oregano, and cook, stirring often, until onions have become translucent, about 3-4 minutes.
5. Stir in orzo until lightly browned, about 1-2 minutes.
6. Stir in chicken broth and 1/2 cup water. Bring to a boil; cover, reduce heat and simmer until pasta is cooked through, about 10-12 minutes.
7. Stir in tomatoes, peas, lemon juice and shrimp.
8. Sprinkle with Parmesan.
9. Place into oven and bake until shrimp are cooked through, about 12-14 minutes.
Serve immediately.
From damndelicious.net
Comments
comments