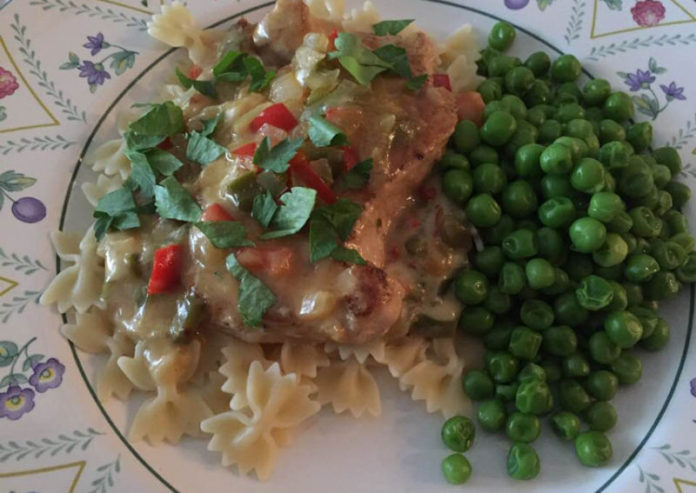 Total sodium per serving:
256 mg
Servings:
4
Ingredients:
1 T. oil
1/2 green pepper, chopped
1/2 onion, chopped
1/2 red pepper, chopped
Directions:
Add the oil to a saute pan and lightly saute the vegetables.Remove to a separate plate.
4 5 oz boneless pork tenderloins pieces
Brown both sides of the pork in the same hot pan.
1/2 can of Campbelll's Cream of Celery Condensed Soup, save remainder
1/2 c. water
Divide the soup over the pork portions, topping with the sauted veggies. Add the
water, cover and simmer for 30-40 minutes.
Remove cover and allow some of the liquid to evaporate. Add 1/4 c. heavy cream to sauce and mix well, cooking a few more minutes.
Fresh parsley is options for garnish.Season with fresh pepper if desired.
Serve over cooked pasta. Shown served over mini farfalle. and with a side dish of peas.
Serves 4, 256mg sodium per portion.
Comments
comments