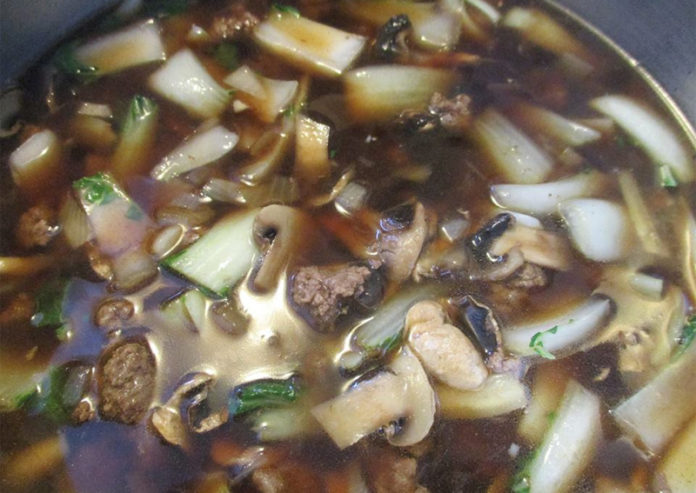 Total sodium per serving:
189 mg
Total calories per serving:
148
Servings:
7 cups or 6 servings
Ingredients
1 lb head bok choy
1 lb extra lean ground beef
1 small onion, chopped, 2.5 oz
4 oz fresh mushrooms, sliced
1 clove garlic, minced
4 cups Campbell's beef broth, no added salt
2 tbsp low sodium soy sauce (Chinatown)
Pepper, to taste
Directions
1. Separate the leaves of the bok choy and wash them well. Cut the stalk part from each leaf, keep the leaves and stalks in separate piles. Chop leaves into strips or large pieces.
2. Brown the ground beef in a large soup pot, add in the onions, mushrooms and garlic; drain any grease.
3. When the onions are almost translucent, add in the bok choy stalks and cook until they are almost tender.
4. Add in the broth and soy sauce and bring to a boil.
5. Stir in the chopped bok choy leaves and cook until heated through.
6. Season with pepper, if desired or perhaps a few red chili flakes for a spicier soup.
Makes about 7 cups or 6 servings
Can be frozen
Per Serving: 148 Calories; 189 mg Sodium ; 3.15g Carbohydrate
Original recipe found at http://www.genaw.com/lowcarb/chinese_beef_soup.html, adapted for low sodium.
Comments
comments