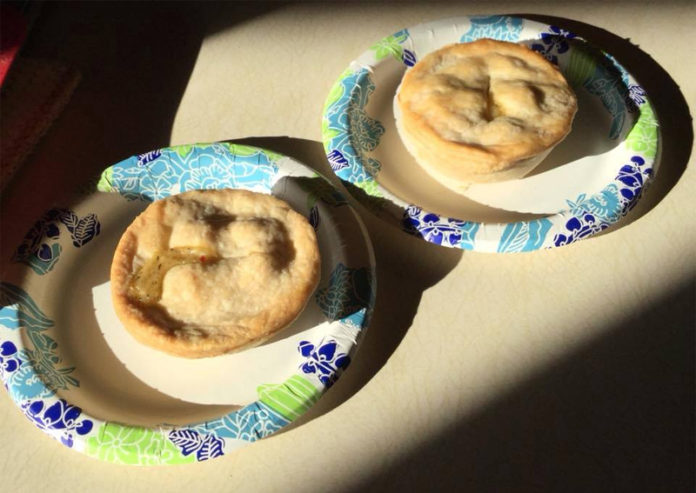 Total sodium:
120 mg per per pie
Servings:
8
This recipe was written to take advantage of the My Lil Piemaker (which is available at Amazon) which makes four cupcake sized pies. You can do yours in muffin tins (using cupcake papers), in silicone muffin cups, or just use throwaway foil small pie tins. It makes enough for 8 little pies, would probably be 4 small pie tins worth. If not using something silicone, I would suggest greasing your pans.
Ingredients:
1 Tablespoon Olive Oil
1/3 cup Dick Logue's Cream Soup Base from 500 Low Sodium Recipes
1-1/4 cups NSA Chicken Broth
2 cans NSA Veg All, drained
1/2 onion, chopped
1 tsp jar garlic
1 diced, raw chicken breast
1 tsp dill
1 tsp 21 Seasoning Salute
1 tsp garlic/onion/pepper blend
1/8 tsp salt
Your favorite 2 crust pie crust recipe using 1/8 tsp salt
Directions:
Prepare cream soup base per instructions in the recipe book. If you don't have the book, you can use Low Sodium Cream of Chicken soup, but it will change your sodium amount. For your assistance the total sodium for the cream soup base is 106mg.
Prepare pie crust, per your recipe. Roll out. Cut out using proper sized circles to fit whatever you are going to bake it in. (I know this is a little sketchy, but I wrote it for My Lil Piemaker which comes with cutters)
Using a large skillet, over medium heat, add oil.
When oil shimmers, add onion, chicken and garlic. Cook until chicken is no longer pink and onion is tender. Add drained Veg All, Cream Soup Base, and seasonings. Bring to a simmer, cover and let simmer for about 15 minutes.
Heat oven to 425°. Put larger circles into whatever you are baking your pies, add filling, put water on edges of top circles and press down onto filled crust. Cut a slit in the top. Put all on a cookie sheet, and bake for 15 minutes at 425°, turn temperature down to 350° and bake for a further 20 minutes. Let set for 5 minutes. Remove from pie tins, or whatever you used.
Total sodium 120 mg per each of 8 pies.
Chicken Pot Pie by Gwen
Comments
comments