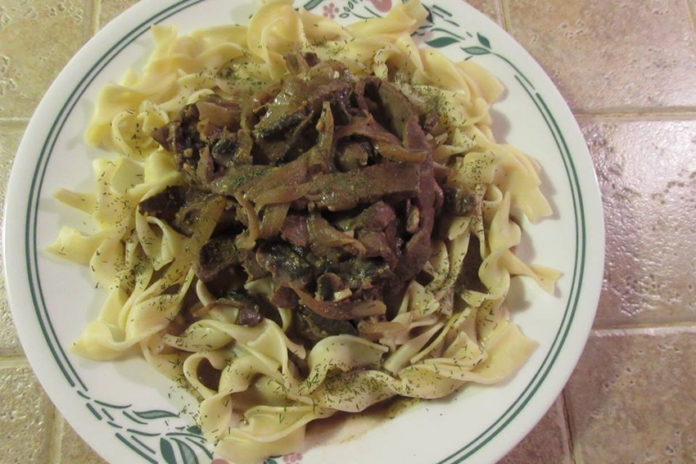 Total sodium per serving:
152mg
Total calories per serving:
467
Servings:
2
Ingredients
8 oz eye of round beef, cut into strips
1 tbsp olive oil
1 onion (abt 150g)..cut into long slivers
4 oz white, button mushrooms, sliced
¼ cup low/no sodium beef broth
1 clove garlic, minced
¼ cup light sour cream
1 tsp stoneground mustard
1/8 tsp dried dill weed
85g egg noodles
Black pepper to taste
Directions
1. Place oil in large skillet and add beef strips, cook until nicely browned.
2. Remove beef to a plate and keep warm.
3. Without wiping out the skillet add the sliced mushrooms, onions and garlic, sauté briefly and add in the beef broth, mustard and dried dill weed.
4. When vegetables are cooked to desired tenderness, add the beef back into the mix and warm thoroughly but do not boil.
5. Cook the egg noodles in unsalted water, drain, and place half on each plate.
6. Lower the heat under the skillet and add the sour cream into the beef mixture until it is heated through (DO NOT BOIL or sour cream will curdle) and divide over the noodles on the two plates.
7. Garnish with a sprinkle of dried dillweed on top of the stroganoff.
Comments
comments