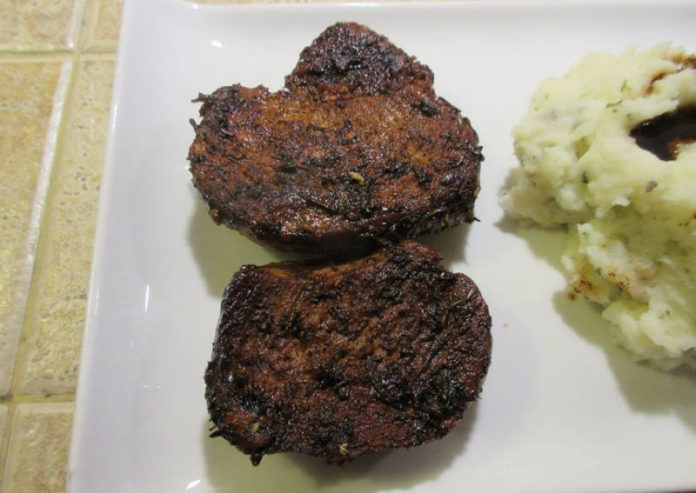 Total sodium per serving:
79mg
Total calories per serving:
220
Servings:
4
Ingredients
16 oz boneless, skinless chicken breasts (4-4 oz)
1 1/2 tsp dried thyme
1/2 tsp no salt seasoning (21 Salute)
1/4 tsp freshly ground black pepper
2 tsp extra-virgin olive oil
1/3 cup water
1/4 cup balsamic vinegar
2 tsp honey 2 tbsp unsalted butter, cut into bits
Directions:
1. Mix the dried thyme, no salt seasoning and pepper together in a small bowl.
2. Sprinkle both sides of the chicken breasts liberally with the spice mixture.
3. Add the olive oil to a large skillet and place over medium heat.
4. Add the chicken to the hot skillet and cook for 2 to 3 minutes or until the chicken has browned. Turn the pieces over and cook the other side until browned.
5. Remove the chicken from the skillet to a plate and cover with foil to keep warm.
6. Add the water, vinegar and honey to the skillet and bring the mixture to a boil, stir constantly to prevent burning. Continue boiling and stirring until the mixture has reduced by half.
7. Add the bits of butter and continue to stir until melted.
8. Lower the heat to medium-low and return the chicken to the pan.
9. Cook for about 3 minutes in the glaze, then turn the pieces over and cook for another 3 minutes or until chicken is cooked through.
10. Serve drizzled with glaze.
Makes 4 servings, each serving has 220 calories, 79mg sodium, 4.1g carbohydrates
Recipe found at RecipeGirl.com (Adapted from 125 Best Chicken Recipes by Rose Murray), rewritten and adapted for low sodium
Comments
comments