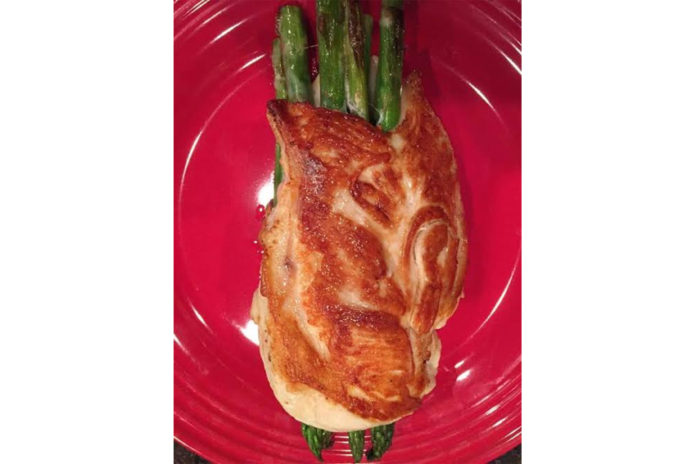 Ingredients are for each serving
1 6 oz,chicken breast, size does not matter except for cooking time
3-5 stalks of asparagus, cut no longer than the length of the chicken breast
1 slice provolone cheese
Place the chicken breast flat on the cutting board. Cut almost also the way through the meat from side to side, making a butterfly cut. Now take the top part of the slice and pull to the side so you have one large, flat piece.
Place the cheese slice on the right side of the breast, top with asparagus spears.
Fold over the top piece and now you will have a sandwich of raw chicken.
In a very hot pan with a touch of oil, place breast and brown on both sides – maybe
6-7 minutes or so for each side..
Place the breast in a preheated air fryer.
Bake at 370 degrees for about 15 minutes. You must check to be sure it is done. I would suggest a meat thermometer.
I also would suggest using broccoli or spinach, and then maybe Swiss cheese or some cheddar. So many different combinations to try. Just keep it low sodium!
Comments
comments