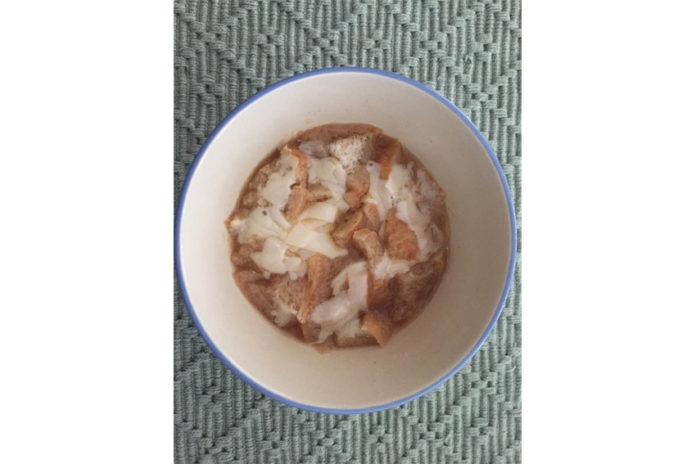 Total sodium per serving:
422mg
Servings:
9 cups
Ingredients
1/4 c. unsalted butter
12 Walla Walla onions, sliced (about 4 cups)
2 beef bouillon cubes
2 T. Herb Ox no salt Beef Bouillon
1/8 t. paprika
1/8 t. black pepper
8 c. water
9 1 oz slices French bread, a bit dried out, cubed
9 slices Kraft Extra Thin Swiss
Directions
Heat a large pot on the stove, add the butter and sliced onions and cook on medium low, covered, for about 30 minutes- stirring a few times.
Remove the cover, turn up the heat to medium and cook the onions, stirring every 5 minutes, until they begin turning a light brown- about 25 minutes, just don't allow the onions to burn.
Add the bouillon cubes, Herb Ox bouillon, paprika, pepper and water. Cook for about 15 minutes on medium high.
Add 1 cup to each bowl, top with one slice of bread, then add the diced Swiss.
Microwave for about 30 seconds to melt the cheese.
Makes 9 cups, 1 cup per serving.
422mg sodium per cup. Sodium can be reduced further using unsalted homemade French bread, and also by using only part or all Herb Ox with no bouillon cubes, or even homemade unsalted beef bouillon.
Comments
comments