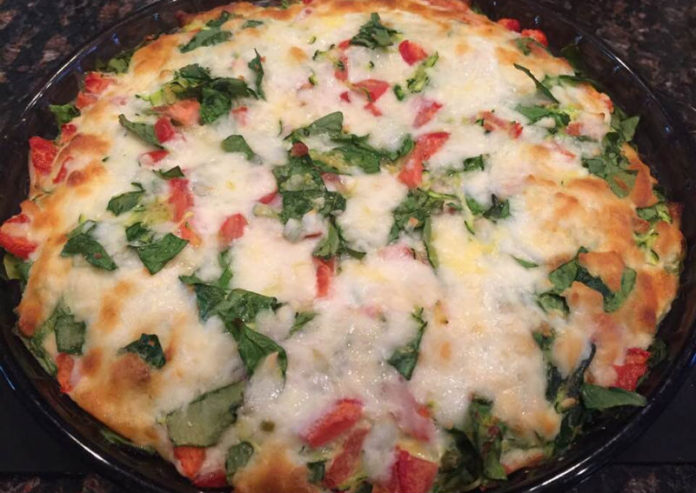 Total sodium per serving:
222 mg
Servings:
6
Ingredients
1 1/2 c. cooked angel hair pasta, cooked in unsalted water. Using leftovers is great. Set aside
1/2 medium zucchini, grated, squeezed dry
3 green onions, thinly sliced
1 t. minced garlic
Using a saute pan, cook the veggies in 1 T. olive oil, until tender.
8 eggs, beaten well and added to a medium bowl.
Add into the bowl with the eggs:
4 oz fresh spinach, chopped
the sauted veggies from above
1/2 t. freshly ground black pepper
Directions to Cook:
Mix the eggs and veggies well.
Add:to the bowl:
4 oz shredded mozzarella cheese – or use fresh mozzarella for much lower sodium.
1 tomato, diced
Mix everything well.
In a well greased pie pan, add the pasta to flatten, making sure it is not mounded. Pour the wet mixture over the pasta and spread evenly.
Bake in a preheated 350 degree oven for 30 to 40 minutes.
You must make sure the egg mixture in the center of the frittata is cooked thoroughly.
Remove from oven and serve by cutting in 6 wedges.
Serves 6, 222mg sodium each.
Comments
comments