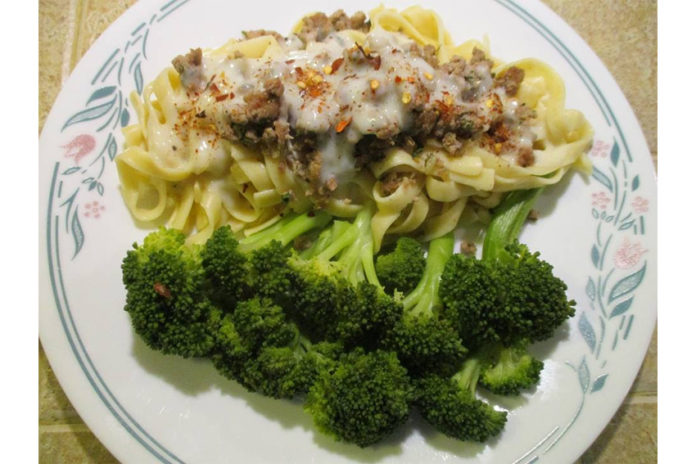 Ingredients
1 lb ground extra lean chicken breast
3 cloves garlic, minced
3 tbsp fresh parsley, chopped
1/4 cup (4 tbsp) freshly grated Parmesan cheese
1 tsp fennel seeds, crushed
1 tsp freshly ground black pepper
2 tbsp extra-virgin olive oil
Directions
1. Mix chicken with garlic, parsley, cheese, fennel seeds, and pepper.
2. Divide the meat into 4 equal pieces to make patties. If making sausage crumbles, leave as is.
3. Place a large non-stick frying pan over medium heat on stove, add the olive oil and then add the meat, fry the sausage, stirring often.
4. To change the sausage from sweet to hot, add red chili pepper flakes to your liking.
Makes 8 servings as crumbles, each serving has 115 calories, 55mg sodium
Makes 4 servings as patties, each serving has 229 calories, 110mg sodium
*The Parmesan cheese I use is the Silani brand and is already grated. At 66mg of sodium in 4 tbsp, it's the lowest I've found so far.
Original recipe found at foodnetwork.com/…/sweet-italian-chicken-sausage-patties-rec… Adapted for low sodium
Sausage shown used in an Alfredo sauce
Comments
comments