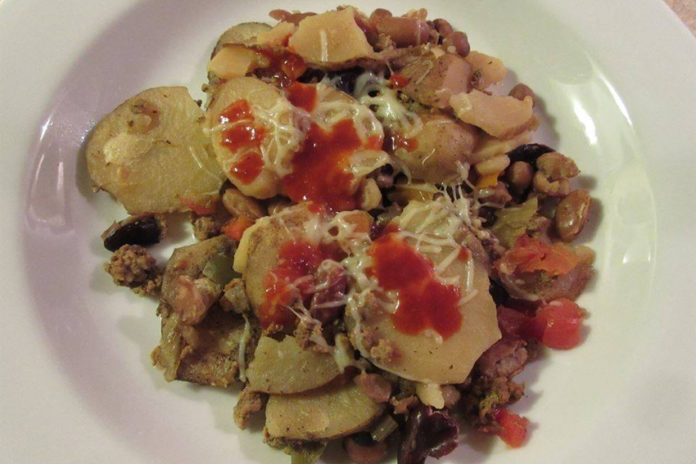 Total sodium per serving:
83mg
Total calories per serving:
383
Servings:
6
Ingredients
1 lb lean ground beef, browned and drained
4-6 medium (852g) red potatoes, cut into 1.5 inch cubes or sliced thinly
1 medium onion, diced
3 garlic cloves, minced
1 can red kidney beans, NAS, drained (I used a 540 ml can 0 sodium Six Bean Mix)
14 oz tomatoes, diced or equivalent of canned no sodium diced tomatoes, undrained
1 cup green/orange/red/yellow pepper, diced
1/4 cup water
1/2 tsp ground black pepper
1 tsp Trader Joe's 21 Salute or other no/low sodium seasoning
2 oz low sodium shredded Swiss cheese
Hot sauce (optional)
Directions
1. Brown ground beef and drain off excess fat.
2. Add potatoes to 4-quart slow cooker and season with 21 Salute and pepper.
3. Add onion and garlic.
4. Add beef, beans, green pepper and tomatoes. Pour water over mixture.
5. Cover and cook on low 7-8 hours or about 4 hours on high.
6. Add cheese to individual bowls when served.
7. Add a touch of hot sauce on top, if desired..
Recipe found at Cooktop Cove, adapted for low sodium
Comments
comments