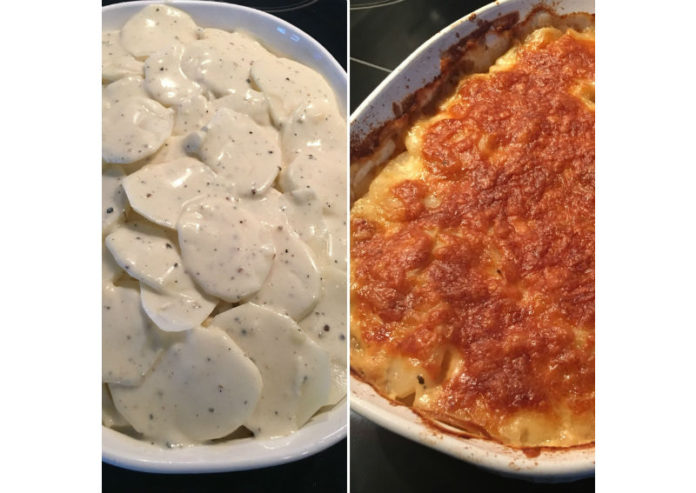 Total sodium per serving:
125mg
Servings:
8
Ingredients
5 medium russet potatoes – peeled and sliced thin (mandolin set on 1/8th setting works best)
1 large white onion – peeled and sliced thin (mandolin set in 1/8th setting)
1 1/4 cup grated Swiss cheese
1/4 cup Parmesan cheese
1/2 to 1 cup mixed grated Swiss & Mozzarella cheese (for top)
3 Tbsp unsalted butter
2 Tbsp all-purpose flour
1 tsp black pepper (or more to taste)
1 tsp garlic powder
Dash of ground thyme
1 large or 2 small bay leaves
1 cup milk + 1/2 cup half and half cream (room temperature) – can also be just milk
Directions:
1. Preheat oven to 350f
2. Lightly grease a 9X9 casserole dish
3. Prepare the potatoes and onion. Place potatoes in cold water while preparing the sauce.
4. Grate the Swiss cheese, set aside
5. As this sauce has to be whisked continuously have all other ingredients ready
6. Over med heat, Melt the butter in a saucepan and flour and stir to make a roux. Cook for approximately 1-2 mins, careful not to burn
7. Slowly add the milk/cream mixture to the roux. Whisk continuously, pausing on pouring to ensure the sauce is smooth. Once all the milk is added, toss in the bay leaves and bring the sauce to a low boil. Keep stirring for 2-3 minster allow the bay leaves to infuse a little.
8. Slowly add the Swiss cheese to the sauce, stirring until blended. Add in the Parmesan and keep stirring. Add in the black pepper, garlic, ground thyme, mix well.
9. Remove the sauce from the heat. Remove the bay leaves.
10. Layer potatoes, onion, sauce in prepared casserole dish. Repeat as often as necessary. Use all sauce.
11. Tent foil on top and bake for 1 hour
12. Remove foil, add cheese on top. Bake for additional 30 mins (check after 20 mins to ensure cheese does not burn.
Comments
comments