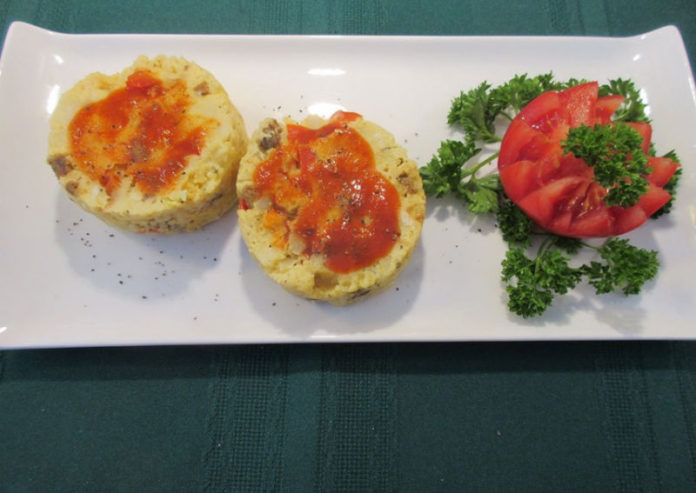 Preparation &
cook time:
about 20 minutes
Total sodium
per serving:
180 mg
Servings:
1
Ingredients
1 oz (1/2 patty) of low sodium, chorizo sausage, cooked and crumbled*
1 slice of no/low sodium, homemade bread, crumbled
1/4 cup milk (I used 1%)
1 large egg
1/4 cup shredded Swiss cheese
1/8 tsp dry mustard
1 tbsp onion, minced
1 tbsp red/green peppers, small dice
Parsley (for garnish, optional)
Trader Joe's Chili Pepper Sauce (optional)
Directions to Cook:
1. Spray the inside of a large microwavable mug with non-stick cooking spray.
2. In a medium sized bowl add the crumbled cooked sausage, crumbled bread, milk and egg. Mix well so that all the bread crumbs are covered. Set aside for about 5-10 minutes so that the bread will absorb the moisture and begin to have a custard consistency.
3. Add in the shredded cheese, dry mustard, minced onion and diced peppers. Mix well so that all ingredients are fully incorporated.
4. Dump the entire mixture into the prepared mug and place it in the microwave.
5. Cook on high setting for 2-3 minutes or until the top no longer feels wet.
6. Remove from the microwave and let the muffin rest for a minute before dumping it out on a cutting board.
7. Dump the muffin out and place it on its side to cut it into two muffin halves. If the center of the muffin looks or feels uncooked put it on a small plate and return it to the microwave for about 30 seconds.
8. Serve immediately. Garnish with fresh parsley and hot sauce if desired.
*other sausage or ground beef or pork could be substituted
This could also be put into an English muffin and eaten as a Breakfast Sandwich.
Makes 1 serving with approximately 180mg sodium
Prep and cook time: about 20 minutes
Original recipe
Comments
comments