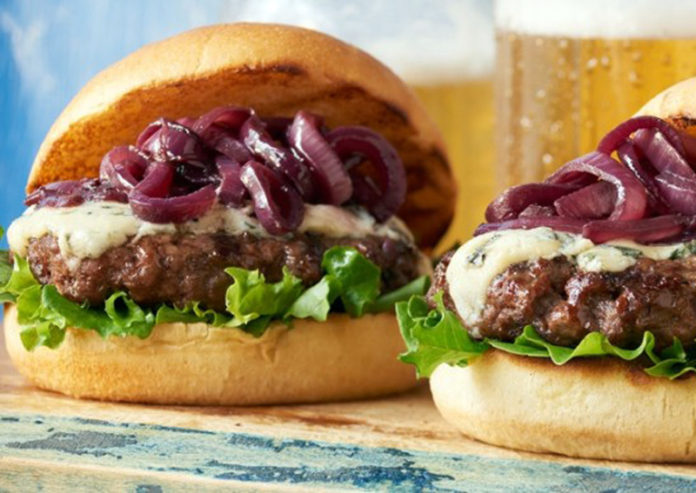 Total sodium per serving:
160mg
Total calories per serving:
489
Servings:
6
Ingredients
2 cups Cabernet Sauvignon or Merlot
2 Tbsp. brown sugar
1 large purple onion, thinly sliced
1 egg
1/3 cup panko bread crumbs or any no sodium added brand
1 lb. lean ground beef
Pepper, to taste
6 slices of Swiss cheese
Directions
In a saucepan over medium-high heat, combine brown sugar and wine stirring until dissolved. Bring to boil then reduce heat and simmer for about 30-35 minutes to reduce wine to about 1/2 cup. Let cool to room temperature.
While wine is reducing, caramelize onions in medium sauté pan about 25 minutes. Add ¼ cup of red wine reduction to onions and sauté for additional 2-3 minutes to combine flavors.
In a large bowl, loosely combine ground beef, egg, bread crumbs, and pepper. Add ¼ cup room temperature wine reduction and fully mix to incorporate with the beef – being careful not to overmix.
Preheat grill to medium-high and form 6 burger patties with the ground beef mixture. Place patties on grill and cook to desired doneness. Top with cheese and cook for additional 1 minute to let cheese melt.
Stack burgers on the bottom burger bun, top with caramelized onions, and drizzle with remaining red wine reduction. Finish topping with your favorite ingredients, top with bun and serve immediately.
Comments
comments