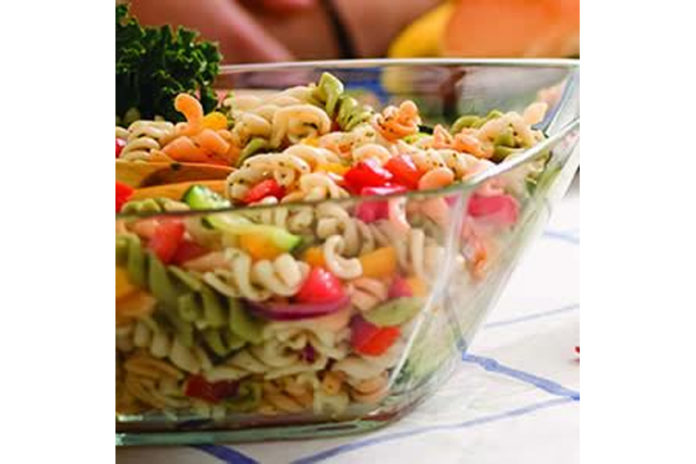 Total sodium per serving:
54 mg
Total Calories per serving:
235
Servings:
2 cups
Ingredients
12 ounces whole-wheat rotini (spiral-shaped) pasta
1 tablespoon olive oil
1/4 cup low-sodium chicken broth
1 garlic clove, chopped
2 medium onions, chopped
1 can (28 ounces) unsalted diced tomatoes in juice
1 pound mushrooms, sliced
1 red bell pepper, sliced
1 green bell pepper, sliced
2 medium zucchini, shredded
1/2 teaspoon basil
1/2 teaspoon oregano
8 romaine lettuce leaves
Directions
1. Cook pasta according to the package directions. Drain the pasta thoroughly. Place pasta in a large serving bowl. Add the olive oil and toss. Set aside.
2. In a large skillet, heat the chicken broth over medium heat. Add the garlic, onions and tomatoes. Saute until the onions are transparent, about 5 minutes. Add the remaining vegetables and saute until tender-crisp, about 5 minutes. Stir in the basil and oregano.
3. Add the vegetable mixture to the pasta. Toss to mix evenly. Cover and refrigerate until well chilled, about 1 hour.
4. Place lettuce leaves on individual plates. Top with the pasta salad and serve immediately.
Nutrition Facts
Total carbohydrate 43 g
Dietary fiber 8 g
Saturated fat 0.5 g
Total fat 3 g
Cholesterol trace
Protein 9 g
Monounsaturated fat 1.5 g
Comments
comments