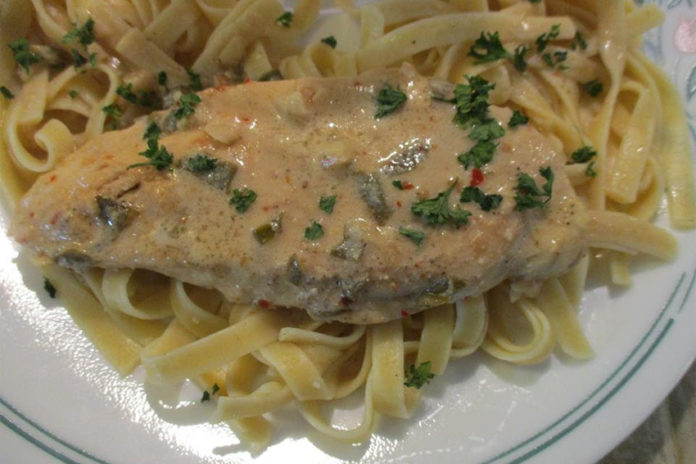 Total sodium per serving:
109mg
Total calories per serving:
233
Servings:
2
Ingredients
2-4 oz boneless skinless chicken breasts (about the same thickness)
pepper
1/2 cup no salt added chicken broth
1 tbsp freshly squeezed lemon juice
zest from the lemon
1/2 tbsp minced garlic (about 3 small cloves)
1/8-1/4 tsp red pepper flakes
1 1/2 tsp olive oil
1 tbsp finely diced green onions (green part)
1 tbsp unsalted butter
2 tbsp low fat, low sodium sour cream
1 tbsp chopped fresh parsley
Directions
1. Pound chicken breasts into ½ inch thickness using a kitchen mallet. Sprinkle both sides of the chicken with a bit of pepper.
2. In a small bowl, combine the chicken broth, lemon juice, zest, garlic, and red pepper flakes.
3. Heat the oil in a large non-stick skillet over medium high heat. Add the chicken and brown on both sides for about 5 minutes per side. The chicken should be completely cooked through. Remove the chicken to a plate.
5. Turn the heat down to medium, add the green onions to the skillet along with the chicken broth mixture. Using a spatula, scrape the bottom of the pan so all the bits have been loosened. Turn the heat back up to medium high and let sauce come to a simmer. Continue to cook the sauce for a few minutes or until it reduces to about 1/3 cup of sauce.
6. Remove from the stove, add the butter and stir until it melts completely. Add the sour cream, mix to combine. Add the chicken back into the pan with the sauce. Place the skillet back on the stove on simmer being careful to not to let it boil. Once the chicken has been reheated, remove from heat, top with chopped parsley and serve warm with additional lemon slices.
Yield: 2 servings, each serving has 233 calories, 109mg sodium
Serve with noodles, pasta or rice and a fresh, green salad – values not added in here
If you want extra sauce to spoon over pasta and rice, double the sauce part and add the extra values into the total.
Original recipe found at littlespicejar.com/one-skillet-chicken-with-lemon-garlic-c…/, rewritten and adjusted for low sodium.
Comments
comments