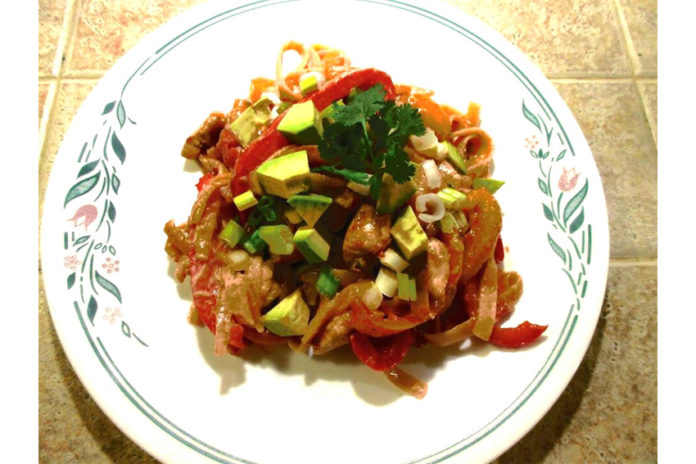 Total sodium per serving:
117mg
Total calories per serving:
395
Servings:
5
Ingredients
2 tsp olive oil, divided (or use non stick spray)
1 lb boneless, skinless chicken breasts
1 tsp ground cumin, divided
1 tsp paprika, divided, divided
1/2 tsp chili powder, divided
1/2 tsp garlic powder, divided
1 large white onion, sliced in long slivers
1 medium red bell pepper, sliced in slivers
1 medium yellow bell pepper, sliced in slivers
3 large cloves garlic, minced
2 cups no salt added chicken broth
2 cups no salt added diced tomatoes with herbs
8 oz fettucine or other pasta
1/2 cup light sour cream
2 green onions, diced
2 tbsp chopped cilantro
1 medium avocado, diced (about 4 oz) diced avocado
Directions
1. Cut the chicken into bite size pieces and sprinkle with 1/2 tsp cumin, 1/2 tsp paprika, 1/8 tsp chili powder and 1/4 tsp garlic powder. Prepare onion, peppers and garlic and set aside.
2. Place a large deep nonstick skillet over high heat with1 teaspoon olive oil. When the oil is hot, add the seasoned chicken and cook until browned, stirring about 5 to 6 minutes. Transfer the cooked chicken to a large bowl and set aside.
3. Reduce heat to medium, add the remaining olive oil to the skillet.
4. When the oil is hot, add the onions, bell peppers, and remaining cumin, paprika, chili powder and garlic powder. Cook, stirring frequently, until vegetables have softened.
5. Add minced garlic, and stir until
fragrant and well mixed, about 30 seconds.
6. Remove from heat and transfer to the bowl with the chicken.
7. To the same skillet, add the low sodium chicken broth, diced tomatoes and uncooked pasta. Stir to combine and bring to a boil, then cover, reduce heat, and cook until pasta is tender and liquid is mostly absorbed.
8. Add the chicken and veggies back into the skillet and stir to combine until heated through, about 2 minutes.
9. Mix in the sour cream and top with green onions and chopped cilantro. Serve with diced avocado on top.
Inspiration for recipe from http:​//www.​skinnytaste.​com/one-pot-chicken-fajita-pas​ta/#OYGpRRIqAr1heYRW.99​,adapted for low sodium
Comments
comments