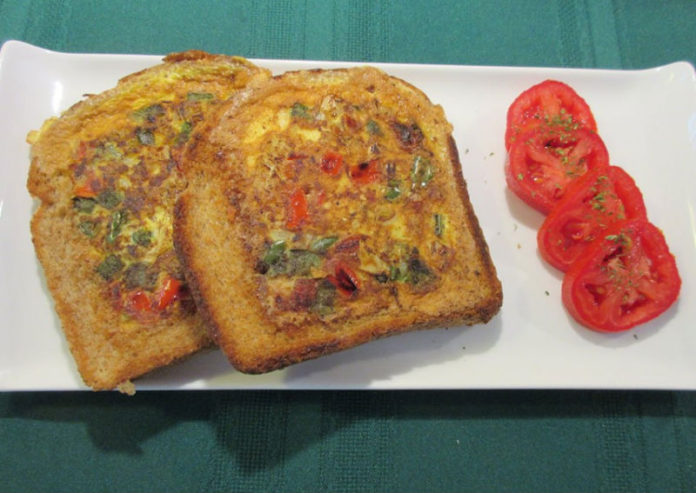 Total sodium per serving:
269mg
Servings:
2
Ingredients
4 slices low/no sodium bread
1/3 cup red pepper, diced
1/3 cup green pepper, diced
1/2 medium onion, diced
4-6 slices sodium reduced bacon (Wegman's 3 sl 135mg)
4 large eggs
1/2 cup shredded Swiss & Gruyere cheese (Trader Joe's)
Black pepper, to taste
1 tbsp unsalted butter
Directions:
1. Cut a square out of each slice of bread leaving only the outer crust intact.
2. Cook the bacon until crispy, drain on paper toweling, chop into little bits and divide into four portions,
3. After dicing the peppers and onion, divide them equally into the four portions with the bacon.
4. Break the eggs into a bowl (break one at a time, if desired, or break all four) and season with a dash or two of pepper, beat well.
5. Using a 12 inch, non-stick skillet, place over medium heat and melt a teaspoon of butter, when melted swirl it around so that pan bottom is covered.
6. Place one of the crusts in the pan (if you have a larger pan, you may be able to do two at once), in the middle of the crust place the one of the portions of mixed peppers, onion and bacon.
7. Pour 1/4 of the beaten egg mixture over the peppers/bacon. Place 1/4 of the shredded cheese on top of the egg mixture.
8. Carefully place the cut out bread middle on top of everything and gently press down.
9. When the crust has nicely browned and the egg middle is beginning to set, carefully turn it over using a large spatula.
10. Once flipped, gently press down on the top of the omelet to make sure that the bottom crust gets embedded in the cheese and uncooked portion of the egg. Continue cooking until the bottom has browned.
11. Remove from the skillet and serve immediately.
12. Repeat the process with the remaining pieces of bread.
Makes 2 servings, each serving of two slices has 269mg sodium
Recipe written from a video on Chefclub.com…videos/1889904791034125/
Comments
comments