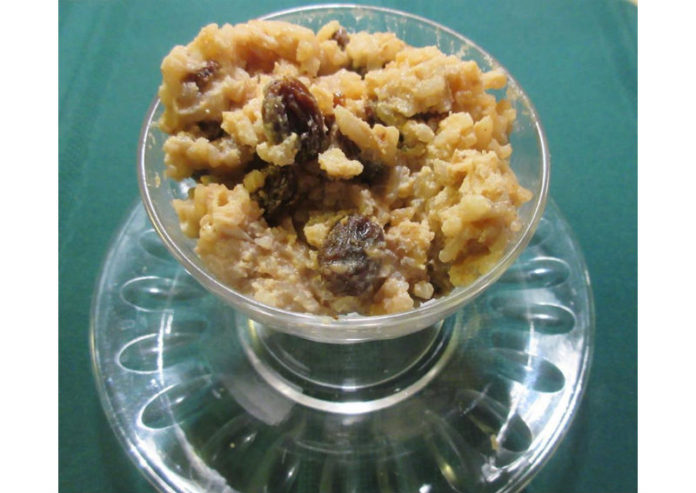 Total sodium
per serving:
55 mg
Total calories
per serving:
206
Servings:
6
Ingredients:
3/4 cup uncooked white rice
1 1/2 cups water
2 cups milk, divided
1/3 cup white sugar or sugar substitute
1 egg, beaten
2/3 cup golden raisins
1 tbsp unsalted butter
1/2 tsp vanilla extract
1/4 tsp ground nutmeg
Cinnamon (optional)
Directions:
1. In a medium sized saucepan bring 1 1/2 cups water to a boil over medium-high heat, stir in 3/4 cup white rice and stir.
2. Turn down the heat to low, cover, and simmer for 20 minutes.
3. Using the same saucepan with the 1 1/2 cups of cooked rice in it, add 1 1/2 cups milk and sugar.
4. Turn up the heat to medium and cook the mixture for 15-20 minutes until it is thick and creamy.
5. Stir in the rest of the milk, the beaten egg*, nutmeg and raisins.
6. Cook for about 3 minutes more, stirring constantly.
7. Remove the saucepan from the stove, stir in butter and vanilla.
8. Let cool slightly to serve warm or serve cold. Sprinkle with cinnamon before serving, if desired.
*Hint…add some of the warm mixture to the egg to temper it so that it does not cook upon impact with the hot mixture
Makes 6 servings, each serving has 206 calories, 55mg sodium, 38.9g carbohydrates
Source…family recipe and assorted internet recipes, adapted for low sodium.
Comments
comments