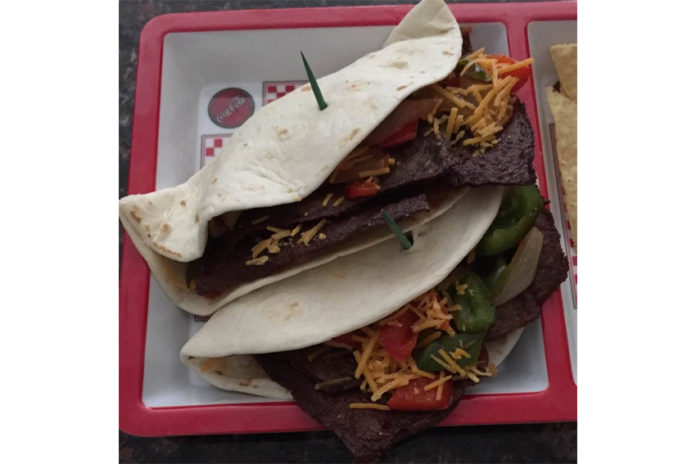 Total sodium per serving:
215 mg
Ingredients
1/4 onion, chopped
1/4 red pepper, chopped
1/4 green pepper, chopped
6 Steak-umms, cut in half
4 6 inch flour tortillas (or use homemade no salt tortillas for a much lower sodium count)
a few tablespoons Trader Joe's Fire Roasted Tomato Salsa, no salt added
Sprinkles of grated cheese — Cheddar, Mexican blend, etc.
Directions
Saute the onion and peppers in a bit of oil, then set aside.
Add the Steak-umm pieces- 4 will fit in a big frying pan- and cook for a couple of minutes, flip and cook until they are turning brown. I like to put them on paper towels to absorb all the fat, and keep them warm until all the pieces are cooked.
Warm the tortillas if refrigerated, and put on a plate. Spread a bit of salsa on one half of the tortilla, then add the sprinkle of cheese, add the steak and veggies. Fold the other half of tortilla over the top and add a toothpick to hold in place.
Each wrap is about 215 mg sodium, and one is very filling!
Serve with more salsa and some Trader Joe's no salt tortilla chips or any other you find.
Comments
comments