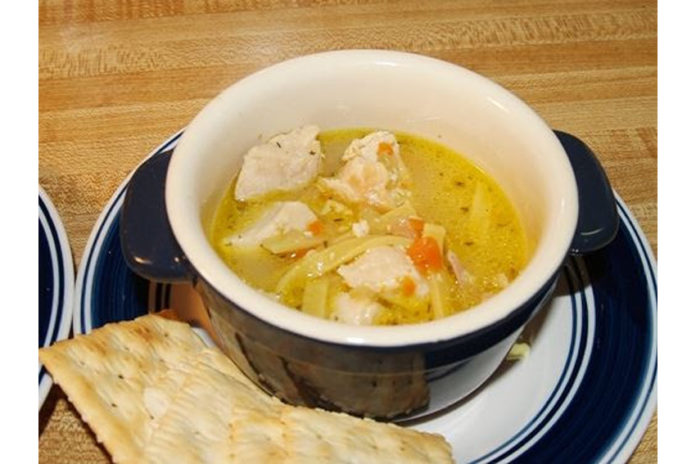 Ingredients
2 Tablespoons unsalted butter
½ Cup Carrots
½ Cup Onion
½ Cup Celery
3 cloves garlic chopped
¼ teaspoon thyme
2 quarts low sodium chicken stock
1 Sodium Free Chicken Herb Ox envelope + 1 cup hot water, mixed together
1 Lb. chopped chicken breast
4 ounces dry egg noodles – there is only 8 MG of sodium per ounce
Dash of cayenne added at the end – if desired.
Directions
First, I put 1 Tablespoon of butter in the bottom of my Dutch oven and let it melt. Then I added the chicken and let it brown well.
I took out the chicken and using my small food processor, put some of the chicken in and chopped it up a bit.
Then I put the chopped onion, garlic, carrots, and celery along with 1 tablespoon of butter into the Dutch oven and let it cook just until the veggies get tender.
I also add a pinch of dried thyme that I rubbed in my hands to release the aroma.
After they veggies are tender, I add 1 cup of water in which a Herb Ox Chicken Envelope has been dissolved.
Then I add 2 quarts of Low Sodium chicken stock and bring the whole thing to a hard boil.
Turn heat down to simmer.
Finally, I add back in the chicken and the noodles and allow to simmer about 15 minutes – then serve!.
Recipe by Kelli
Comments
comments