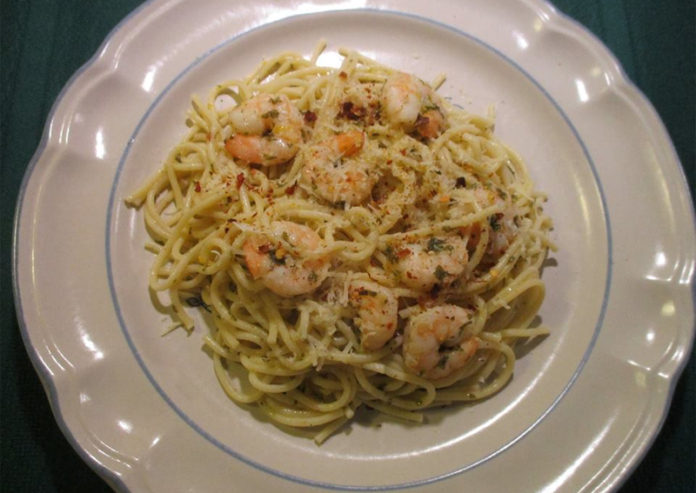 Ingredients:
12 oz peeled and deveined large shrimp, tails removed*
8 oz spaghetti or angel hair pasta, uncooked
2 tbsp unsalted butter
2 tbsp olive oil
5 cloves minced garlic
3 tbsp NSA chicken broth or dry, white wine
2 tbsp fresh lemon juice (juice of one lemon)
1/4 teaspoon crushed red pepper flakes
1/2 teaspoon freshly ground black pepper
1/4 cup chopped fresh parsley
1 tablespoon lemon zest
4 tsp freshly grated Parmesan cheese
Directions:
1. Thaw shrimp if frozen, rinse and drain. Pat shrimp dry with paper towels.
2. Cook the pasta according to package instructions minus the salt. Cook until pasta reaches al dente stage, drain and set aside.
3. While the pasta is cooking, melt the butter over medium-low heat in a large non-stick pan. Add the olive oil, stir in the garlic, and cook for 3-4 minutes or until softened. Add the shrimp, chicken broth, lemon juice, and red pepper flakes.
4. Cook and stir until the shrimp is pink and cooked through. Stir in the black pepper, parsley, and lemon zest.
5. Toss the shrimp with the pasta and serve.
6. Sprinkle each serving with 1 tsp of freshly grated Parmesan cheese
Makes 4 servings with shrimp, each serving has 417 calories, 230mg sodium, 45g carbs
4 servings with chicken breast, each serving has 434 calories, 140mg sodium, 45 carbs
*Shrimp could be replaced by 12 oz lower sodium chicken breast, cut into bite size pieces
Original recipe from allrecipes.com/recipe/88349/lemony-garlic-shrimp-with-pasta, adapted for low sodium
Comments
comments