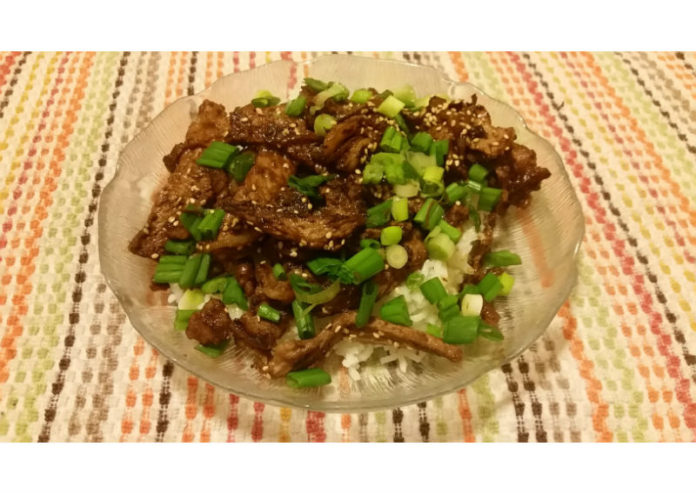 Total sodium per serving:
117mg
Total calories per serving:
121
Servings:
4
Ingredients
1 ½ lb rib eye steak
½ onion, cut into chunks
3 garlic clove
1 bosc pear, peeled and cut into chunks
1 spring onion, cut into chunks
3 tablespoons brown sugar
1 teaspoon black pepper
3 tablespoons Chinatown low sodium soy sauce
2 tablespoons sesame oil
1 onion, cut into thin slices
1 tablespoon oil
2 spring onions, sliced, to garnish
1 teaspoon toasted sesame seed, to garnish
Directions:
1. Slice the beef as thinly as you can, then set aside in a large bowl or plastic Ziploc bag.
2. In a blender, blend the onion chunks, garlic, pear, spring onion pieces, brown sugar, pepper, soy sauce, and sesame oil until smooth.
3. Pour the marinade over the beef, add the onions, and then mix evenly. Cover or close bag and marinate for at least 30 minutes in the
fridge. (Best if marinated overnight)
4. Heat oil in a skillet over high heat.
5. Being careful not to crowd the pan, cook the marinated beef and onions until all the liquid is gone and the meat begins to brown, then top
with the spring onions and sesame seeds.
6. Serve with the rice
Comments
comments