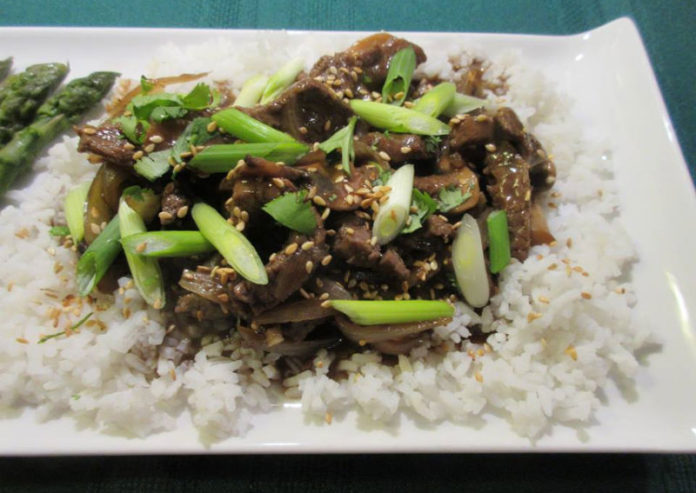 Total sodium
per serving:
193 mg
Total calories
per serving:
341
Servings:
4
Ingredients:
1 lb beef eye of round or sirloin, trimmed, cut into thin strips
2 tsp canola oil
1 medium onion, cut in half and sliced lengthwise
8 oz sliced mushrooms
For the marinade
2 garlic cloves, minced
1/4 cup freshly squeezed orange juice (abt 1 orange)
1/4 cup low sodium Chinatown soy sauce
2 tbsp unpasteurized liquid honey
1 1/2 tbsp toasted sesame oil
1 tbsp Trader Joe's Chili Pepper Sauce*
1 tbsp corn starch
1/2 tsp no sodium Chinese 5 Spice**
To garnish
toasted sesame seeds
sliced green onions
fresh cilantro
Cooked rice, to serve….has not been included in the nutrition values and will need to
be added
Directions:
1. Place the beef in the freezer for 30 minutes to an hour, slice into thin strips.
2. Combine all the ingredients for the marinade in a large ziploc bag and mix well.
3. Place the baggie into a large bowl. Add the beef slices, mix well and allow the beef to marinate for at least 30 minutes or overnight for a more intense flavor.
4. Cook the mushrooms in the oil in a large non-stick skillet or wok set over high heat until brown and softened, about 5 minutes. Add the onions and cook until softened, about another 5 minutes.
5. Add the meat and marinade to the skillet and cook, stirring frequently, until the meat is just slightly pink and the sauce is thickened, about 3 minutes.
6. Serve immediately with rice. Garnish with toasted sesame seeds, sliced green onions and fresh cilantro leaves.
*can be substituted with another hot sauce or sambal oelek but sodium amounts will change…add more if you like it spicy
**recipe for Chinese 5 Spice on website
Makes 4 servings, each serving has approximately 341 calories, 193mg sodium, 20g carbohydrates
Original recipe found at thehealthyfoodie.com, rewritten and adapted for low sodium.
Comments
comments