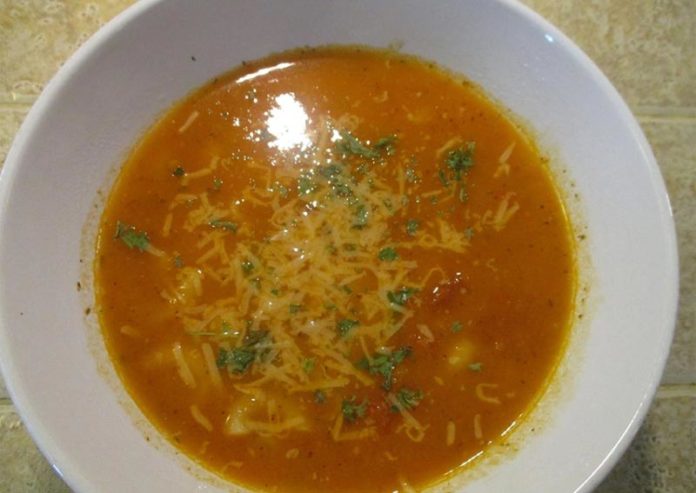 Total sodium per serving:
74mg
Total calories per serving:
210
Servings:
5
Ingredients
3 tbsp olive oil
1 large onion, peeled, diced
2 tsp no salt Italian spices (McCormick Perfect Pinch)
1/8 tsp freshly ground black pepper
3 large cloves garlic, minced
4 large, fresh tomatoes (29 oz)
4 cups low/no sodium beef broth (Campbell's/Swanson)
2 cups water
1 tsp sugar
1 cup small pasta (any kind or an assortment)
chopped fresh parsley, to serve (optional)
1 tbsp freshly grated Parmesan cheese, to serve
Directions
1. Heat the oil over medium heat in a large soup pot.
2. Add the onion and cook for a minute or two, stirring often to make sure onion does not burn.
3. Add the Italian spices and pepper and continue cooking until the onion softens, but hasn't browned.
4. Add the minced garlic to the pot and cook for a few more minutes.
5. Add the chopped tomatoes, broth, water and sugar. Bring the mixture to a boil and then reduce heat.
6. Cover the soup pot with a lid and simmer the soup for about 15 minutes. Remove the lid and purée to remove the large pieces of tomato or leave as is if a chunky soup is desired.
7. Return the soup to a boil. Add the pasta and cook until tender (about 15-20 minutes depending on the type of pasta used).
8. Let the soup sit for about 10 minutes before serving. Taste, and adjust the seasonings if necessary.
9. Serve, garnished with fresh parsley, if desired. Add 1/5 tbsp freshly grated Parmesan on top.
Makes 5 servings, each serving has approximately 210 calories, 74mg sodium and 27g carbs.
Original recipe from http://thelitkitchen.com/italian-tomato-pasta-soup/, adapted for low sodium
Comments
comments