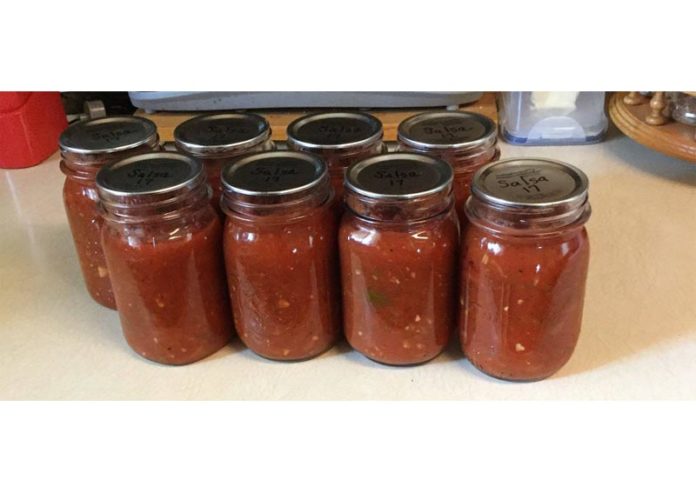 This is a recipe for canning salsa,
Makes about 8 pints.
Ingredients
10 pounds tomatoes
2 white onions
2 jalapenos
6 garlic cloves
1 red bell pepper
1 green bell pepper
24 ounces tomato paste
1 T. sugar
1 tsp black pepper
1 tsp dill weed
1 cup lime or lemon juice
Instructions:
Peel and chop tomatoes, chop onions and peppers in food processor or pull and chop to desired size.
Put everything in a large non reactive pot and gradually bring up to a simmer. Cover and let simmer for 30 minutes, stirring occasionally.
Meanwhile prepare jars for canning.
Fill hot jars to ¼" from top with hot salsa, wipe rims, put on lids and bands and water bath or steam can for 15 minutes. Let cool without disturbing for 24 hours.
NOTE: Next time I make this I will use 2 each of the bell peppers.
Also note that this recipe contains no salt. The dill weed takes the place of that. Less than 2 mg of sodium per 2 Tablespoons of salsa.
Comments
comments