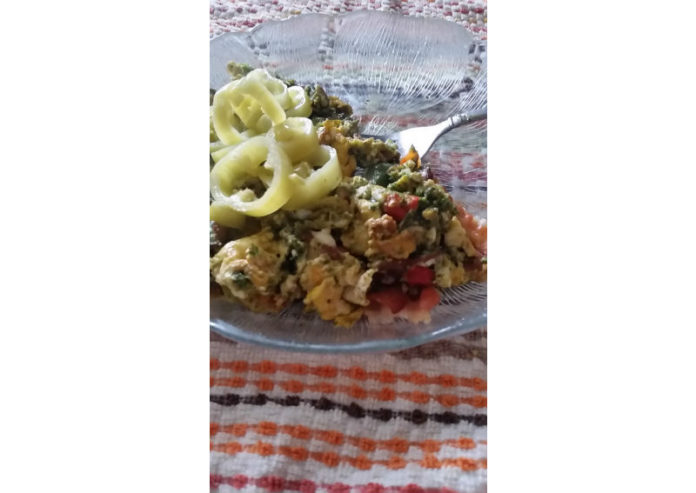 Total sodium
per serving:
283.5 mg
Total calories
per serving:
240.3
Servings:
1
Nutrition Facts Per Serving:
Calories 240.3
Total Fat 16.6 g
Saturated Fat 3.2 g
Polyunsaturated Fat 2.0 g
Monounsaturated Fat 3.6 g
Cholesterol 387.0 mg
Sodium 283.5 mg
Potassium 170.2 mg
Total Carbohydrate 2.3 g
Dietary Fiber 0.3 g
Sugars 1.0 g
Protein 12.8 g
Ingredients
2 eggs, scrambled
1 Tablespoon chopped bell pepper (color of your choice)
1 Tablespoon chopped onion
2 Tablespoon Kalena's Pesto
2 strips low sodium bacon
Directions:
In a nonstick frying pan, cook bacon until you reach a nice crispness. Flipping the strips a few times. (save the grease for future use)
Remove the bacon, drain the grease. Once cooled, crumble the bacon
Using the same pan, add the bell pepper and onion. Sauté until tender
While the vegetables are sautéing, in a small mixing bowl add the eggs and scramble with a fork.
Add 1 tablespoon of Kalena's pesto to the scrambled eggs.
Once the vegetables are ready, add the egg mixture to the pan.
While the eggs are setting up and the remaining pesto and the crumbled bacon then begin to scramble the mix.
Cook until desired texture (I like it somewhat wet but not raw)
Plate and enjoy!
Comments
comments