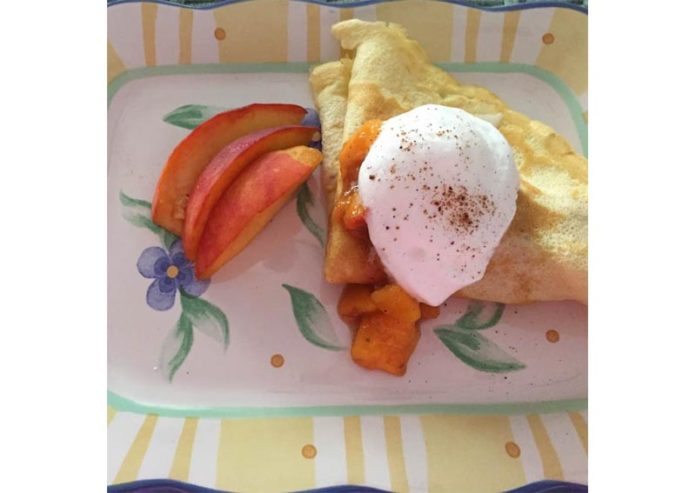 Ingredients
9 ripe peaches, peeled and chopped
3/4 t. each– nutmeg, ginger, cinnamon and cardamom
3 T. brown sugar
1 T.. fresh lemon juice (save zest for another recipe)
8-9 crepes, homemade or purchased
Mix all ingredients together and chill until the crepes are made.
Crepes
Add following to blender:
3/4 c. milk
3 eggs
3/4 c. flour
1/2 t. vanilla
Directions
Mix everything in blender. Heat medium frying pan on medium high and add a touch of oil, Pour some of the batter into bottom of pan and swirl around quickly.
3-4 T. is about the right amount. You want a thin crepe–.batter will cook quickly. Gently flip crepe as you side a spatula underneath.
Cook for a few seconds. Place on plate and keep warm. Repeat with the remaining batter. You should have 8-9 crepes when finished.
Place some of the peach mixture onto 1/2 the crepe, and fold over the other half, then fold again to make a wedge. Or you can put filling in center of crepe and roll it up.
Top crepes with remaining peach mixture and add a bit of whipped cream and nutmeg if desired.
Comments
comments