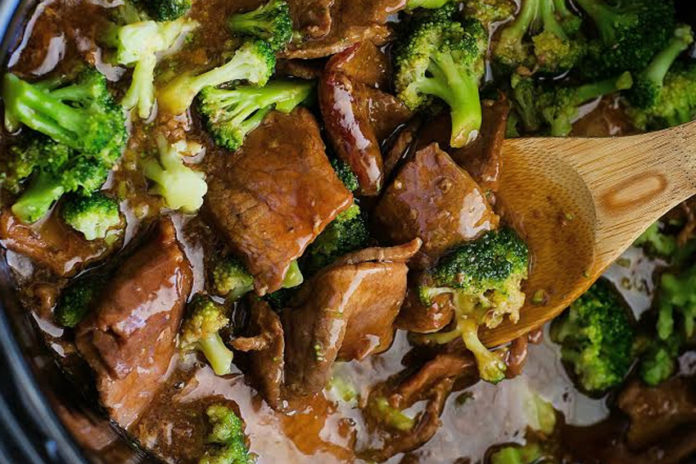 Ingredients
1.5 pounds flank steak, thinly sliced and chopped into 2 inch pieces
1 C. Beef broth ( 1 c. water and 1 t. Herb Ox no salt beef Bullion)
4 C. Broccoli florets
2/3 C. Soy sauce Low sodium or a combination of loso and aminos
1/3 C. Brown sugar
1 Tbsp Sesame oil
1 Tbsp Minced garlic
1/4 tsp Red chili flakes
2 Tbsp Corn starch + 4 tablespoons cold water
Directions
1. Grease the inside of a slow cooker. Add steak, beef broth, soy sauce, brown sugar, sesame oil, garlic, and chili flakes.
2. Cover and cook on high for 2-3 hours or low 4-5 hours.
3. 30 minutes before serving, uncover the slow cooker.
4. In a small bowl whisk corn starch and water until dissolved.
5. Add to slow cooker and stir.
6. Cover and allow to cook another 20-25 minutes.
7. Just before serving, place broccoli in a large Tupperware, fill with ½ inch of water, and place the lid on in an off-set manner so that the container can vent.
8. Microwave on high for 3 minutes.
9. Drain, stir broccoli into slow cooker.
10. Enjoy!
5-6 servings
Comments
comments