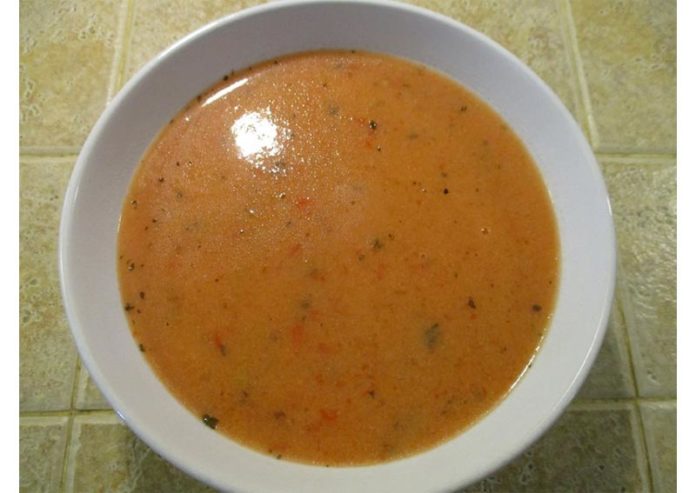 Total sodium per serving:
43mg
Total calories per serving:
102
Servings:
9 cups
Ingredients
900 ml (one box) NAS Campbell's Chicken Broth
1 1/2 lb fresh tomatoes (3 large), cored, diced*
1 medium, yellow onion, large dice
1 large sweet, red pepper, diced
2 tbsp unsalted butter
1 tbsp dried basil or no salt Italian herbs
3 tbsp cornstarch
1 cup half & half
Directions
1. Core and diced the tomatoes and place them in a blender or food processor, add some of the chicken broth and purée. Add this mixture to a large soup pot.
2. Cut the onion and red pepper into a large dice, add to the blender and add the remaining chicken broth. Purée and add to the tomato mix in the soup pot.
3. Bring to a boil over medium high heat, stir occasionally.
4. Reduce heat to simmer and add the butter and basil and stir well.
5. Mix the cornstarch with the half & half to make a slurry, add to the hot mixture and stir well. Continue heating until the soup begins to thicken.
Makes 9 cups of soup, each serving has about 102 calories, 43mg sodium and 10.8 carbohydrates
Note:
*I did not remove the skin from the tomatoes, just puréed it up with the rest of the tomato. If fresh tomatoes are not available, use canned tomatoes with no salt added.
Comments
comments