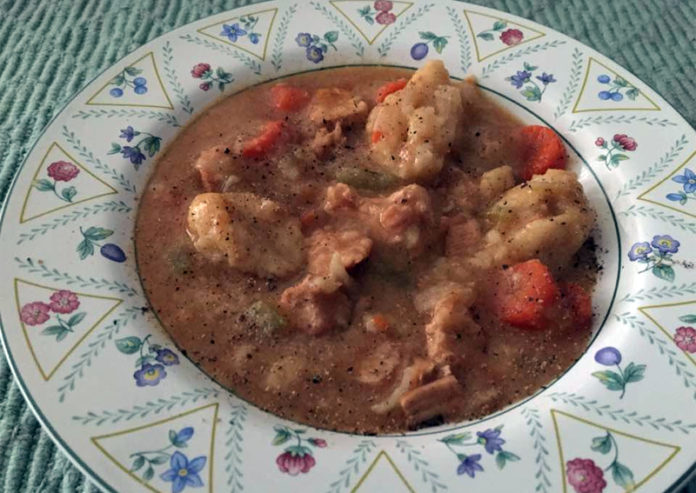 Ingredients
1 lb boneless chicken breast
2 carrots, chopped
2 ribs celery, chopped
1 onion, chopped
2 1/2 c. flour
1 c. water
1 egg
2 T. cornstarch
1 T. Herb Ox no salt Chicken Bouillon
1/2 t. onion powder
1/2 t. black pepper
1 t. paprika
Directions
Get a large soup pot, add about 7 cups of water and bring to a boil. Cook chicken for about 10 minutes or so. Remove chicken and chop. SAVE WATER. Add chicken to slow cooker.
Now while water is boiling, add vegetables and cook for 5-6 minutes until they begin to soften. SAVE WATER, and remove vegetables to slow cooker.
Now, mix the flour, water and egg in a bowl. Stir well with fork.
Scoop about a teaspoon or so of the thick batter onto a spoon. Place the spoonful of batter in the boiling water, you may use another spoon the remove the batter to the water.
Quickly spoon the rest of the batter into the boiling water. Let cook about 5 minutes. SAVE WATER Remove all the spaetzel dumplings to the slow cooker.
Now mix the cornstarch with about 1/2 c. cold water. In another sauce pan
with about 3 cups of the hot water that was saved. Stir quickly and you will get a thick gravy. Sprinkle in the bouillon and mix well.Also mix in the onion powder, pepper and paprika. Now pour this gravy over the chicken and spaetzel in the slow cooker. Mix well.
Cook on Low for 5 hours. Serve
Save the remaining liquid from the soup pot in case you need more liquid. Any leftover can be saved for future soup.
Serves 4 generously.
You may need to sprinkle on a bit of Diamond crystal Kosher Salt as it has very low sodium compared to others.
Comments
comments