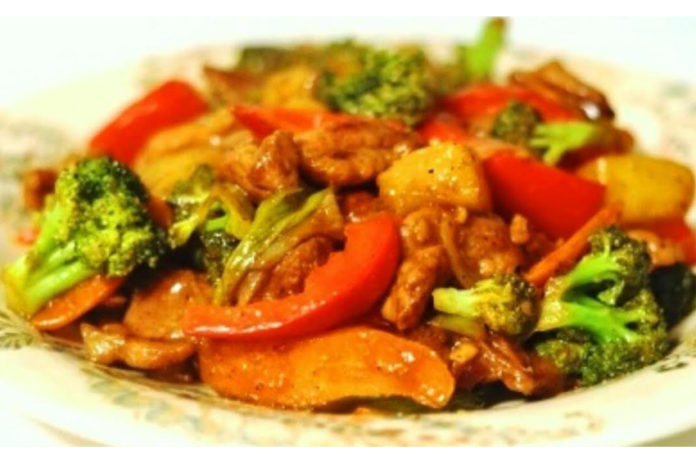 Total sodium per serving:
61mg
Total calories per serving:
213
Servings:
6
Ingredients
1 can (20 ounces) unsweetened pineapple tidbits
2 tablespoons cornstarch
1/4 cup cider vinegar
1/4 cup no salt ketchup
2 tablespoons brown sugar
1 tablespoon reduced-sodium soy sauce
1/4 teaspoon ground ginger
1-1/2 pounds boneless skinless chicken breasts, cubed
3 tablespoons canola oil, divided
1/4 teaspoon garlic powder
2 medium carrots, sliced
1 medium green pepper, julienned
1 medium tomato, cut into wedges
1 c. broccoli florets
Hot cooked rice
Directions
Drain pineapple, reserving the juice; set pineapple aside. In a small bowl, combine cornstarch and reserved juice until smooth.
Stir in the vinegar, ketchup, brown sugar, soy sauce and ginger; and garlic powder- set aside.
In a wok or large skillet, stir-fry the chicken in 2 tablespoons oil for 5-6 minutes or until no longer pink. Remove and keep warm.
Stir-fry the carrots in remaining oil for 4 minutes. Add green pepper; and broccoli. Cook and stir until vegetables are crisp-tender. Add chicken and pineapple.
Stir pineapple juice mixture; pour into pan. Bring to a boil; cook and stir for 1-2 minutes or until thickened. Add the tomato wedges. Serve with rice.
Comments
comments