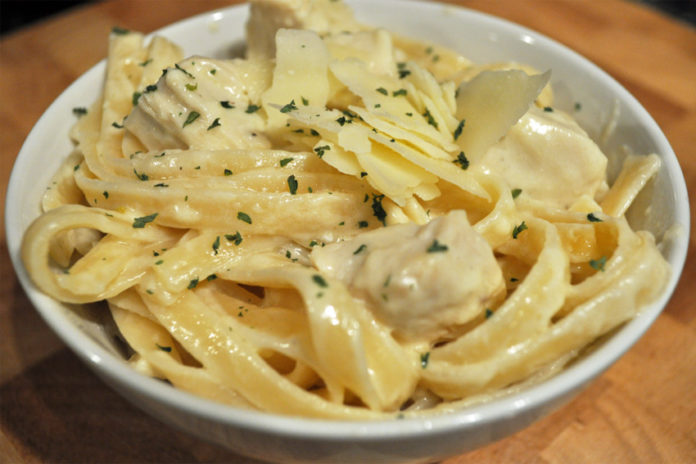 Total sodium per serving:
144mg
Total calories per serving:
615
Servings:
4
Ingredients
2 tbsp olive oil
1 lb boneless, skinless chicken breast, sliced
Salt substitute (21 Salute)
Black pepper
3 cloves garlic, minced
2 tbsp freshly squeezed lime juice (use less if bottled juice)
1/4 cup no/low sodium chicken broth (Progresso, unsalted)
1 tbsp fresh cilantro, chopped
2/3 cup heavy cream
2/3 cup whole milk
1/2 cup Trader Joe's shredded Swiss & Gruyere cheese
8 oz uncooked spaghetti, fettuccine or linguine
Reserved cooked pasta water
1 tsp fresh cilantro, chopped
Directions
1. Heat olive oil in a large skillet on medium-hot heat. Generously season sliced chicken with salt substitute and pepper, add to the hot skillet and cook for about 5 minutes until done.
2. Remove sliced chicken from the skillet.
3. To the same skillet, add minced garlic, lime juice and chicken broth. Cook for 1-2 minutes on high heat, deglaze and scrape the skillet until the liquid is reduced and making sure garlic does not burn and brown too much or it will be bitter. Mix in chopped cilantro.
4. Add heavy cream and milk. Bring to boil, then immediately add the shredded cheese and mix in until melted, while boiling. Then, remove from heat.
5. Cook pasta according to package instructions but without salt, drain, reserving some cooked pasta water.
6. Add pasta to the sauce, along with the half of the chicken. Mix everything in and season pasta with more seasoning, if needed. If the pasta is too dry add in a bit of the reserved pasta water and remix until you have the sauce thickness you want. (Add a tablespoon at a time!!)
7. Top with the remaining half of the chicken and more chopped cilantro. Serve while hot!
Comments
comments