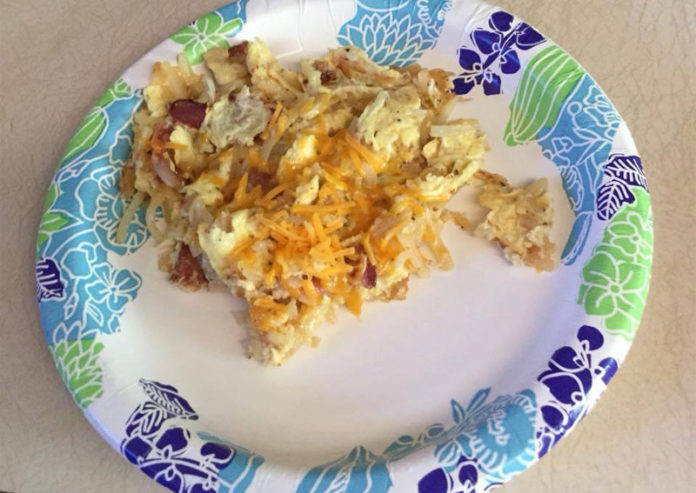 Total sodium:
1310 mg
Servings:
6
This is more of a how to than a recipe. Just add your personal touches to it and follow the basic way to do it.
Ingredients:
4 slices of Costco Thick Low Sodium Bacon (or any loso bacon that adds up to about 600 mg of sodium)
1 cup of Simply Shreds Potatoes (or any brand…this amount of these is 110 mg of sodium
6 eggs (420 mg), beaten
1/4 cup shredded cheddar (180 mg)
Seasonings are up to you. I use 21 Seasoning Salute, my own blend of equal parts garlic powder/onion powder and pepper. I do not measure, just put "some" in on the potatoes, and some in the eggs after beating them.
A couple of shakes of minced onion (add to the eggs)
Directions
Cut bacon into small pieces into a large frying pan. Cook over medium heat until almost done. Add the shredded potatoes, and all three seasonings (or whatever seasonings you want). When this is nearly done, pour in the beaten eggs which have been sitting with the onion and more seasonings in them). Let set for a bit then start working with a spatula until the eggs appear to be about done, then sprinkle with the cheese, turn off the burner and let it sit until the cheese is nearly melted. Serve as is, or wrapped in tortillas as burritos with salsa and hot sauce. This amount makes 6 servings.
Total sodium for the recipe as is (no tortilla) is 1310 mg of sodium.
Now for changes:
Use homemade loso sausage or a small amount of ham instead of bacon
Use Egg Beaters rather than eggs, though your sodium content will be a lot higher. We used to love it with the Southwestern Egg Beaters.
Sauté onions and sweet peppers with the bacon.
Use frozen Potatoes O'Brien
The different things you can do with this are endless. Get creative.
Breakfast Mess by Gwen
Comments
comments