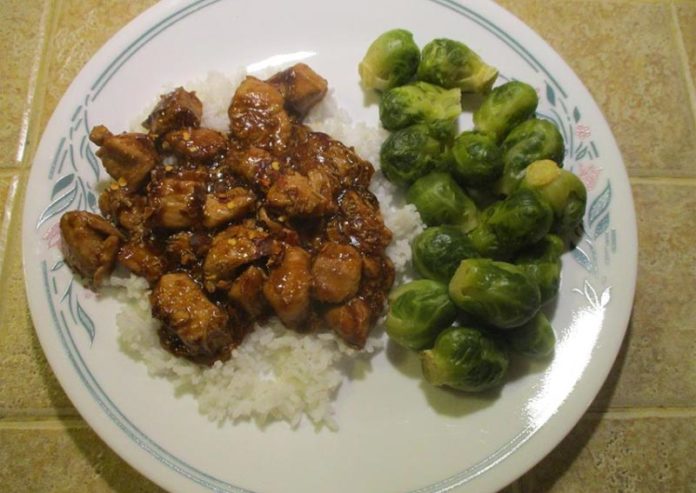 Total sodium per serving:
350mg
Total calories per serving:
389
Servings:
4
Ingredients
2 lb boneless chicken breasts; cut into bite-size pieces
1 tbsp olive oil
1 clove garlic, finely minced
1/4 tsp freshly grated ginger
1/4 tsp crushed red pepper flakes (add more if desired)
1/4 cup apple juice
1/3 cup light brown sugar (packed)
2 tbsp no salt added ketchup
1 tbsp cider vinegar
1/2 cup water
1/3 cup low sodium soy sauce (Chinatown)
1 tbsp cornstarch (if thick sauce desired)
Directions
1. Place oil in a large skillet and heat over medium heat.
2. Add chicken pieces, cook until lightly browned and no pinkness remains. Stir often so chicken does not stick or burn.
3. When chicken is cooked, remove to a bowl and keep warm.
4. Add the remaining ingredients to the skillet, heat over medium heat. Stir all ingredients to make sure all is well blended.
5. Add the chicken back into the skillet and bring the mixture to a boil.
6. Reduce heat and simmer to 20 minutes, uncovered.
7. If a thick sauce is desired, mix the cornstarch with a bit of water to make a slurry. Add it to the hot mixture , stir until the liquid thickens somewhat.
Serve over hot rice and with a green vegetable.
Makes 4 servings, each serving has 389 calories, 350mg sodium and 25.4g carbs….or
6 servings, each serving has 260 calories, 233mg sodium and 17g carbs
Original recipe from http://www.food.com/recipe/bourbon-chicken-45809, adapted for low sodium
Comments
comments