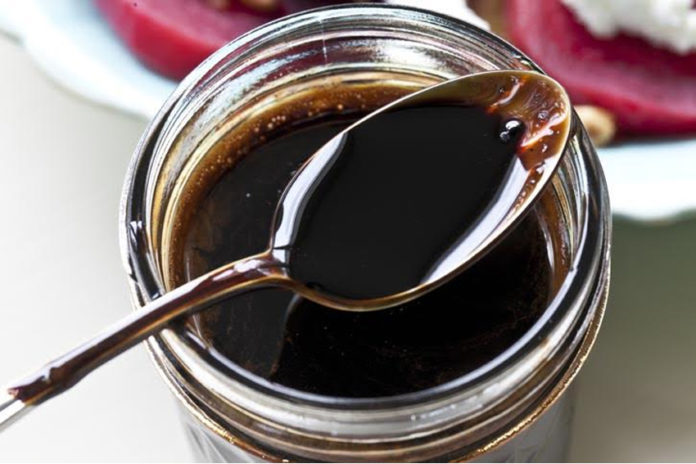 Brush it on in the last few minutes of grilling so it doesn't burn.
Refrigerate unused glaze in airtight container for up to 1 month.
Ingredients
1 1/4 cup balsamic vinegar
1/2 cup liquid honey
1 teaspoon cornstarch
1 tablespoon cold water
Directions
1. In saucepan, bring vinegar and honey to boil over medium-high heat.
2. Boil until reduced to 3/4 cup (175 mL), about 15 minutes.
3. Mix cornstarch with water; stir into glaze and boil until thickened, about 1 minute. Let cool.
Ideas for use.
Sprinkle 1-1/2 lb (750 g) boneless skinless chicken breasts, pork tenderloins or salmon fillets with pinch each salt and pepper.
Place on greased grill over medium-high heat; close lid and grill, turning once, until chicken is no longer pink inside or salmon flakes easily when tested, about 10 minutes, or juices run clear when pork is pierced and just a hint of pink remains inside, about 20 minutes.
Brush with 2 tbsp (25 mL) desired glaze; grill, covered, just until caramelized, about 2 minutes.
Turn and brush with 2 tbsp (25 mL) more glaze; grill for 1 minute.
By The Canadian Living Test Kitchen
Comments
comments