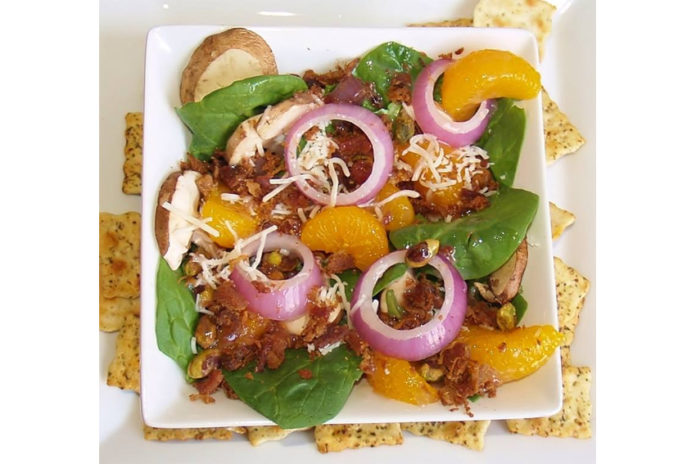 Ingredients
4 strips of bacon, fried crisp and crumbled- I use lo/so bacon
1 can of Mandarin orange, drained
1 cup of sliced Mushrooms
Several red onion rings
1 ten-ounce bag of baby spinach
½ cup of slivered almonds (I don't like almonds so I substituted pistachios and it was perfect!)
You will also need:
1/3 Cup of Red Wine Vinegar
½ Cup Sugar
¼ Cup Water
1 ½ Tablespoons of butter
½ teaspoon salt- I use NO Salt which is a substitute
1 egg, beaten
Directions
Mix the vinegar, water, sugar, butter and salt together in a saucepan. Bring to a boil and allow to boil for 1 minute.
Set pot off stove for about an hour to cool.
In a dish, beat the egg then add to the can and put back on the stove.
At this point you should stay with the pan and stir constantly.
Allow dressing to cool for about 30 minutes.
Put all the other items in a bowl and drizzle the warm salad dressing over the salad. Serve with lo/so crackers.
Is that great or what? The combo of the flavors was complex – there was so much going on in my mouth!
I hope if you make this 70's version of healthy salad you enjoy it as much as me.
Comments
comments