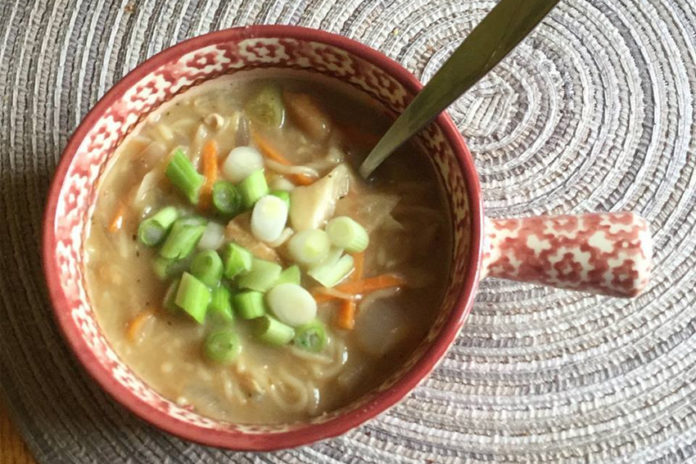 Total sodium per serving:
382.7mg
Servings:
6
Pair this delicious dish with a risotto and a nice bottle of wine. This Italian favorite is easy to make and sure to impress your guests.
Ingredients
3 cakes Lotus Foods Millet and Brown Rice Ramen
1 Tablespoon Canola or Olive oil
1 onion, chopped
1/2 cup julienned carrots
8 oz coleslaw mix
8 oz chopped cooked chicken
1 tsp Trader Joe's 21 Seasoning Salute (or your favorite spices)
1 tsp garlic pepper
1/8 tsp ginger
1 tsp Weber Salt Free Chicken Seasoning
1/4 cup lemon juice
4 cups no salt added chicken broth
1/3 cup KRAFT lite Asian Toasted Sesame Dressing
2 teaspoons Creamy Peanut Butter
Green onions, chopped diagonally for garnish
1/4 cup peanuts
Directions
Bring 3 cups of water to boil in a saucepan, add 3 cakes of the Ramen. Let boil for about 3 minutes. Break up with a fork and drain. In a 4 quart (at least) pan, add oil. Saute onion and carrot until tender, add Ramen, coleslaw mix, chicken, garlic pepper, ginger, Weber seasoning, lemon juice and chicken broth. Stir together Kraft Dressing and Peanut Butter until smooth. Pour into soup. Let simmer for ½ hour. Ladle into soup bowls, garnish with green onions and peanuts.
Comments
comments