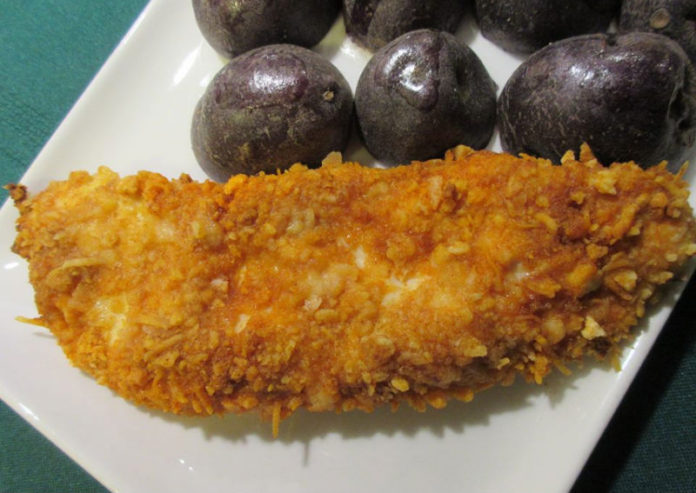 Total sodium
per serving:
56mg
Total calories
per serving:
244
Servings:
4
Ingredients:
4 skinless, boneless chicken breasts, trimmed (about 1 lb)
1/3 cup (abt 30g) freshly grated Asiago cheese (or similar)*
1/4 cup all-purpose flour
1/4 cup no sodium homemade bread crumbs**
2 tsp paprika***
1/2 tsp pepper
1/4 tsp garlic powder
1/4 tsp onion powder
1 egg, beaten
Directions:
1. Preheat oven to 350°F
2. Rinse, trim and pat dry 3-4 skinless boneless chicken breasts.
3. Grate 1/2 cup of fresh Asiago cheese. (see note*)
4. Prepare a rimmed baking sheet. Cover the tray with aluminum foil for easier clean up. Place a rack on top of the baking sheet and spray liberally with non-stick cooking spray.
5. Prepare two shallow plates to do breading. Plate one with one beaten egg, Plate two add and mix well to combine – 1/4 cup all-purpose flour, 1/4 cup breadcrumbs, 1/2 cup grated Asiago cheese, 2 tsp paprika, pepper, onion powder and garlic powder.
6. Dip the chicken breast in the beaten egg, coat well and shake off excess. Secondly, dip the chicken in the flour/cheese/spice mixture…shake off excess and place the chicken on the prepared rack.
7. Add a little extra topping to any bare spots on the breasts and give them a light misting of non-stick cooking spray.
8. Place the tray in the oven and bake for about 35-40 minutes or until no pinkness remains and juices run clear when chicken is pierced with a fork.
*the Asiago cheese I used has 107 calories, 145mg sodium, 0 carbs for 30 grams
** if you use Panko or commercial breadcrumbs, the sodium will be higher
***can make this spicier by adding hot paprika, cayenne pepper or red pepper chili flakes to mix
Makes 4 servings, with the ingredients I used each serving has 244 calories, 56mg sodium and 15g carbohydrates
Inspiration for this recipe found at 101cookingfortwo.com, rewritten and modified for low sodium.
Comments
comments